josef woodard/liner notes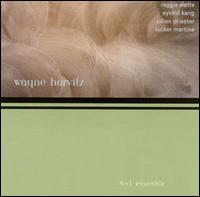 liner notes for Wayne Horvitz, 4+1 Ensemble (Intuition)
by Josef Woodard
It could be said that keyboardist-situationist-bandleader-composer Wayne Horvitz' instincts take him in multiple directions at the same time. It could also be said that Horvitz is circling around a private aesthetic that broadens even as it focuses: it's paradoxical, confusing, yet lucid, the way of good art.
Enter Horvitz 4+1 Ensemble, a surprising yet logical extension of his musical story thus far. The ingredients: Horvitz, playing mostly acoustic piano, trombonist Julian Priester, violinist Eyvind Kang (member of the quartet led by Bill Frisell, Horvitz' longtime friend and musical ally), keyboardist Reggie Watts, and the phantom-like presence of Martine Tucker, offering understated electronic processing of the band in action. From these elements comes a new kind of ensemble, sans drums and bass but not rhythmic impetus, alluding to jazz and classical traditions, free improvisation and other genres, identifiable and otherwise.
Here, Horvitz has room to move and invent, leaning towards the myriad of impulses he's developed in the hard-to-classify, new music-cum-jazz world. As always, structure can be fine, but abstraction is always an option.
An active participant in New York's downtown scene and now based out of his adopted hometown of Seattle, Horvitz often heads off to points in Europe and has honed skills in the machinery John Zorn's Naked City, and his own groups, The President, Pig Pen, and his saucy neo-organ group Zony Mash. These groups bring new definition to notions of groove, texture, and cubist-like melodic sensibilities, enjoying an oblique relationship with the tradition of jazz band behavior.
A different kind of behavior guides the musicians in the new group. Electro-acoustic--with a heavy emphasis on the acoustic--the 4+1 ensemble developed more-or-less simultaneously with Zony Mash, and is something of a lateral cousin to the organ group's groove-lineage. It relates to work, off to the side of jazz orthodoxy, he has done with Butch Morris and Bobby Previte.
On this album, the references are all over several maps. The electric piano sound on the opening "Step Aside" plays a linear role almost like an African mbira, while tolling piano chords on "Up All Night" yield to a poetic detour of a piano solo, colored by trombone/violin pads. The scruffy sampled riff underscoring "Cotton Club" is campy/sensuous, drily funny but swinging, a good armature for Priester's sassing trombone urgings.
The improvisatory, painterly canvas of "Trouble" contrasts with the all-for-one unison line of "AFAP," and "Exit Laughing" enters with scampering improv and yields to a sonic wash. "Take Me Home" is a hypnotic, pulse-driven outing, graced with some deliciously nasty synth sounds over bubbling e-piano percolations.
"Calder/Snake Eyes" ends the project with a suite of economical, episodic proportions, from chamber music-like formality to an artsy swagger, held in balance like a Calder mobile gone vaguely askew. As elsewhere, the sense of a living, breathing, improvising presence is at the core, but odd little electronic timbres creep in from the sides, and we're not always sure where the processing begins and the visceral music-making ends. Plugged in or not, making it organic is the rub.
Call it jazz if necessary. This music has no name, in particular: it has a strong spirit, and a sense of moving forward and inward at the same time.