josef woodard/liner notes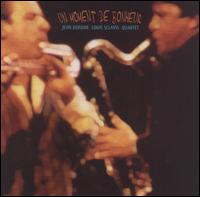 Liner notes for Louis Sclavis, Jean Derome Quartets, Moment de Bonheur (Victo), 2003
Uncommon Grounding
When Louis Sclavis and Jean Derome joined artistic forces for a Victoriaville concert in 2001, it was a meeting on turf both familiar and alien. That sort of duality is at the heart of an artistic adventure all about the pursuit of, and also selective resistance to, balance.
It was a transcontinental first encounter between musicians who knew of each other, who shared mutual respect, and are known to cross idiomatic borders. The virtuoso and range-free clarinetist Sclavis, whose memorable Victo visits have included his "Le Violence de Rameau" project and a wily duo with Ernst Reiseger, headed over from his home base in Lyon, France. Montrealer Derome, a frequent Victo flyer, has brought countless projects to town over the festival history. Just add a complementary, suitably flexible rhythm (and anti-rhythm) section--the brilliant French bassist Bruno Chevillon and hyper-musical Quebec drummer Pierre Tanguay--and the stage was set for a magical cross-cultural alliance.
The conference of disciplined free spirits resulted in one of the clear highlights of that year's FIMAV festival, and a rambling musical landscape with proper disregard for genre or strict adherence to structure. Collective poetry and individual expressive flights came into being, and a raucous good time was had.
What to call this music, apart from inspired and exploratory? Old categorical descriptors fail. If this is jazz, it's from a post-post-modern parallel perspective, in which free improv and moveable pillars of structure conspire towards a happy accord. At times, the band's blend of angular thematic material and free ventures resembled Henry Threadgill's out-chamber aesthetic, but its real success is contingent on the sense of a new sound beholden mainly to these specific creative entities.
Plenty of "blowing" ferocity and impromptu interactions ensued in the concert, as on the piece "Pas a pas," but the whole was also dignified by the design of its parts and the diversity of its compositional settings. Each piece seemed to attack a certain notion or particular problem, dynamically, procedurally, and otherwise.
A lean, muscular theme kicks off the set on "Tu dis tout de travers," with opening statements on Derome's sax and Sclavis' bass clarinet laid over a rhythmic momentum as loose as it is forceful, in the late period Coltrane/Ayler mode. Enigmatic musings, flecked by unusual textures and an airy melody, mark "Le baiser," and the sneakily, gently propulsive "L'errance" is an exercise in muted intensity. You can taste the restraint.
"Sclavis: Suite" is an eclectic twenty-minute pastiche, a trip through multiple attitudes--stylistical and emotional--which could be considered a microcosm of the larger project. A driving introductory section glides through a free transitional zone, and into a mischievous, quasi-metal-jazz section, replete with a distortion effect on Chevillon's bass and a lumbering backbeat from Tanguay. The suite goes other places, as well, on its restless, ephemeral journey.
An elegiac air hovers over "Jonas," its darkly lyrical themes—for bass clarinet and alto flute--settling loosely over a tolling dirge rhythm which deconstructs before our ears, a fittingly thoughtful finale.
If there's a message in this music, it has something to do with the intrinsic power of dialogue between musicians who can claim both common ground and musical differences of opinion, for spice's sake. Nationality and cultural distinctions were moot in this provocative conversation, by turns deep, raging, reflective, and encouraging more of the same.
--Josef Woodard, February, 2002