josef woodard/liner notes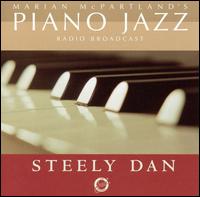 Liner notes for Marian McPartland's "Piano Jazz" album with Steely Dan (Jazz Alliance/Concord)
In an auspicious convergence, while I was writing a cover story for Down Beat on Steely Dan, my favorite band, the band's co-conspirators Donald Fagen and Walter Becker appeared on NPR's esteemed "Piano Jazz," run for a quarter century by Marian McPartland, my favorite radio personality. One could hear, in perceived or actual rumbling, the subsonic discord of jazz purists posing the implicit question: "what's a hit-making pop group doing appearing on the cover of America's oldest jazz magazine and on NPR's most beloved and venerable jazz show? What's become of the state of jazz?" The answer is obvious to anyone who has listened closely to the integral jazz elements in the Fagen-Becker musical palette, going back to the early '70s—around the same time "Piano Jazz" started, serendipitously.
To go directly to the source, McPartland herself asserts, "the answer to the question is: they both love jazz and they both love Duke Ellington. They were so impressed that they were talking to someone who actually knew Duke Ellington. I was laughing, because here are these number one stars talking to me as if I knew a lot they didn't know."
Though not a diehard Dan fan from their '70s halcyon days, McPartland has greatly admired the band, "since I first heard them," she says. "Funnily enough, my English nephew, a great pop and jazz fan, came to stay with me and he brought one called Nightfly (Donald Fagen's album). I guess that was my first exposure. Then he brought Two Against Nature and I fell completely in love with their music. I set about trying to get them on the show.
"Some rumor came to me. Somebody had heard them say that `Piano Jazz' was the best thing on NPR, some remark like that. They made some complimentary remark. So I thought that should make it easy for me to get them. I found their number and called up Donald Fagen. They were quite agreeable to do the show. I think they had a ball, and I certainly did. Those guys are so funny and so witty and deadpan."
In the studio for the occasion were McPartland and Fagen on grand piano, Becker on electric guitar, their recent drummer-of-choice Keith Carlock and bassist Jay Leonhart, making for a tasteful electro-acoustic band scenario. At the time of this program, Fagen and Becker were preparing to release the album Everything Must Go, but the emphasis was on anything but typical promotional consciousness. The songs picked from the Dan songbook included one radio hit, "Josie," from the classic album Aja, and two "album tracks" falling in their familiar blues-with-a-twist category, "Chain Lightning" and "Black Friday," both from their unfairly overlooked 1975 gem Katy Lied. On the latter two tunes, McPartland joins in, gamely as always.
Otherwise, the song list dipped into the land of Ellington, opening with a choice rarity, "Limbo Jazz," whose opening chordal vamp reminds of the intro to the Steely Dan tune "Home at Last." (They've tapped jazz precedents before, including Horace Silver for "Rikki Don't Lose That Number" and Keith Jarrett on "Gaucho"). Fagen the singer also lends his cool bluesy swagger to the WC Handy classic "Hesitation Blues," made famous by Louis Armstrong, one of the countless jazz legends McPartland had a friendship with. McPartland asks for a request and Fagen suggests "Star Eyes," which she proceeds to wrap in silk and salt.
If age and experience separate the remarkable octogenarian McPartland and the Baby Boomer Dan partners, they have more points of commonality than we'd think. All these parties have a broad and curious tastes in music, and have, in distinct ways, put jazz in the public's face, outside of the usual, marginal jazz landscape. Unsuspecting radio dial surfers are liable to bump into "Piano Jazz" on their dial travels and discover there's much more to this jazz thing than the "smooth" drivel or the antiquarian varieties touted by the neo-cons.
For their part, Steely Dan has been stealthily implanting jazz factors into the general public ear space since the '70s (well, with a little 20-year hiatus in their discography, between 1980's Gaucho and 2000's Two Against Nature, sly masterpieces, both). They may be a Grammy-winning pop band, but even a cursory analysis of their riffs, chords, solo spots (often by jazz greats, including Wayne Shorter, Phil Woods, Victor Feldman, and Chris Potter), not to mention their attitudinal patina, reveals a sensibility brain-deep in jazz. And their generous, warm-spirited "Piano Jazz" session is another public declaration of that love.
Reflecting back on the program, McPartland says, with perfect sincerity, "I love those guys. I think they're wonderful, the way they include jazz people at the end of every song. If you didn't think it was jazz in the beginning, you certainly do by the end of it."
The pop-morphing-into-jazz phenom she mentions is nowhere better illustrated than in the song "Gaslighting Abby," which opens Two Against Nature with a seamless and rather sneaky cocktail of pop and soul easing casually into jazz phrasing and a devilish harmonic roadmap. That's one song McPartland wisely chooses to inquire about on the program, about which Fagen points out that in his songwriting process with Becker, "the music sometimes gives us cues as to what the song is about."
Another strong point of empathy and communication between Steely Dan and McPartland—and other quarters in jazz--may be the core role of the piano. Pianistic thinking often prevails in their compositions and production, avoiding the usual guitaristic mentality in pop and rock. The easy and understated conversation of piano approaches between Fagen and McPartland, who duet over the Ellingtonia of "Mood Indigo" and "Things Ain't What They Used to Be," is one of this recording's unexpected charms.
Respected jazz pianist Bill Charlap, who made a cameo on Everything Must Go, spoke about his appreciation of the Steely Dan songbook and the evolution of their work as pop songsmiths: "it's almost like, now, you think of their work as really fine cabinetry. Already, the cabinet works, and it's really good and sturdy and is going to last forever. The material there is already really good. Now, we're going to make things really balance and ornate… but not too ornate."
Music from off to the side of jazz, proper, has made it into "Piano Jazz" before, including friendly encounters with Bruce Hornsby and banjoist Bela Fleck. But not everyone is happy with this tendency, and McPartland bumped up against bias with the Steely Dan show. "There's a guy down in Philadelphia on the station WRTI and he evidently thinks it's outrageous for me to put pop groups on the show," she recalls. "So he elected not to run the Steely Dan show. So many people were furious about that. They had waited for that. There are so many people who love jazz, but also love the other kind of music and I wanted to try to please everybody. I enjoyed that music, so why shouldn't I put it on my show?"
By its very nature, and the uncommon multi-talents of its host, "Piano Jazz" is often an exercise in creative collusion, a mutual admiration society in real, spontaneous time. The special meeting of minds in the Steely Dan program found the mutually admiring parties reaching across a supposed cultural divide between pop and jazz, a divide which all involved intrinsically understand is more arbitrary than actual.
As McPartland says, "I'm sure that all the people who were furious in Philadelphia who couldn't hear the show will rush out to buy this album. I found them to be wonderful guys to work with. I'd do it again in a pinch if I got the chance."
January, 2005
--Josef Woodard (author and journalist, contributor to Down Beat, the Los Angeles Times, and other publications)