josef woodard/liner notes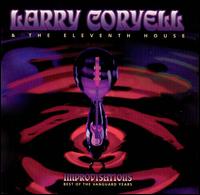 Guitar Fusion: The Best of the Vanguard Years
Liner notes for Larry Coryell fusion disc
Riding the Rough Waves
There have been many smoother operators in the world of jazz guitar than Larry Coryell, the brainy rough rider who was a natural-born fusioneer, in the best sense. There have been cleaner technicians on the instrument, with a more lucid sense of identity and careers that have followed a logical, rolling landscape. But not many have quite attained Coryell's strange, madly eclectic state of grace: into music he came, he saw and heard things not yet articulated, he conquered on his own terms, and moved on, unwilling to outstay his muse's welcome.
Over the course of a winding, unpredictable career, Coryell has made his way through a myriad of musical directions and defied easy categorization. He has played, fat hollowbody guitar in hands, in the straightahead jazz vein of his early heroes, like Tal Farlow and Johnny Smith, and he performed with and championed the young Emily Remler, who died young. Coryell has adapted classical repertoire for the guitar, by Ravel and Stravinsky's early ballets, including the thorny Rite of Spring." Circa 1999, he released a duet album with violinist L. Subramanium, in an Indian classical mode. In short, Coryell is the once and future non-purist.
And not incidentally, in the tender, thunderous seminal days of his guitaristic explorations, Coryell was a man born to embrace the thing they called fusion. In fact, he arrived at the merger of jazz and rock before the f-word slipped into the cultural discussion, and marketplace. The native of Galveston, Texas, who came of age in Washington and studied journalism before succumbing to his love for the guitar, was already mixing up styles in 1966, in the aptly-named band, The Free Spirits.
As a sideman, too, Coryell brought a free spirit, regarding the blend of jazz and rock, in work with Chico Hamilton, Herbie Mann, and Gary Burton, another seminal fusion figure not often given credit. Coryell's contribution to the birth of fusion was generally overshadowed by the better-known jazz-rock alchemy of the Tony Williams Lifetime and, moreso, the hugely influential Miles Davis electric epoch, both of which featured the young guitar firebrand from the UK, John McLaughlin, in whom Coryell recognized an ally and an inspiration.
Rock and roll, especially the sort which embraced an expansive view of music's possibilities—i.e. Hendrix and Cream—was, in Coryell's view, a friendly co-conspirator in the musical scheme of things. As the '60s melted into the '70s, Coryell had stoked his interest in rock as much as other, more complex musical issues, and had wound up sharing the stage with Jack Bruce and Mitch Mitchell.
By the early '70s, Coryell was always the maverick making eloquent mutterings in the corner of the jazz-rock scene. Names like Mahavishnu Orchestra, Return to Forever, and Weather Report prevailed, and lured near-rock group level of fandom unheard-of in jazz, but aficionados also recognized Coryell's musical mission, his raw potency, and dark horse status of his group, the Eleventh House. Coryell did much of his early experimentation on his discography for Vanguard, and many of those tracks—heard on this compilation—sound now, in the long aftermath of fusion's heyday, like the stuff of music changing its molecular make-up. It's a raw, sometimes fragile process, true to the spirit of Coryell's playing and thinking about music.
1970's Spaces is something of a landmark not only in Coryell's career, but in the rapidly advancing evolution of jazz-rock. It was a cerebral all-star meeting of fusion architects, musicians who would go on to play in the primary ensembles of the idiom: John McLaughlin and Billy Cobham in Mahavishnu Orchestra, Chick Corea already Return to Forever, and bassist Miroslav Vitous was headed for an early incarnation of Weather Report. Coryell himself recognized the session's significance, which grew in retrospect: nearly three decades later, in 1997, he released Spaces Revisited, with Cobham, fellow guitar slinger Birelli Lagrene, and bassist Richard Bona.
At the time of the original, though, some cultural chemistry experiment was underway, that even the players involved didn't quite yet understand. The title track, written by Julie Coryell, opens spaciously, with Vitous' ethereal arco bass tones. In the driving middle section comes the anxious fretboard dialogue between Coryell and McLaughlin—mutual admirers who would play together a decade later in an unplugged super-trio with Paco De Lucia. Here, though, the energy is electric, and fingers fly into happy, intricate knots.
By the time Introducing the Eleventh House came out, fusion was in full swing, and listeners were attuned to its syntax of funk-driven rhythms, odd metered passages, and elaborate musical structures that defied the typical head-solo-head orthodoxy of jazz tradition. The Eleventh House, with a young Randy Brecker on trumpet, drummer and future bandleader Alphonse Mouzon, Coryell's teenage collaborator Mike Mandel on keyboards, and Danny Triffan on bass, brought its own ideas and energies to the table.
"Low Low Tah," with its rippling arpeggios over clenched, bittersweetly dissonant chords, its odd metric design and simple melody stated by Brecker, stakes out a Mahavishnu-esque musical place, but with distinct differences. Brecker's solo is followed by a thin-toned guitar solo with liberal bending of strings, a Hindi blues feel. A more chugging, accessible quality emerges on "Adam Smasher," with chord changes lifted from the pop world mixed in with jagged unison lines, and Mandel's archival analog synth sounds appearing like an endearing ancestor of the digital parade to come.
Mandel's "Joy Ride," vis a vis the title, is a breezy vamp, with a blithe, ornate little melody and the kind of rock-ish chord progression that lays easily under Coryell's spirited solo, again with a thin, rock guitar tone instead of any certified "jazz" sound. Coryell and Mandel, with another timbre-tweaking synth patch, trade riffs on the rumbling ostinato of the end vamp.
Turning yet another stylistic corner, "Yin" is an intense improvisational vehicle over one chord, with shards of sawtooth unison lines that suggest the various influences of Indian, Spanish, and, rock 'n' roll. It finds the players in fast, loud spirits, exchanging short, interactive bursts of phrases from instruments colored by effects, between the whirling envelope filtering of Coryell's guitar through a Mutron-III, Mandel's oscillator-fueled synthwork, and Brecker's wah-wah-fied trumpet.
The brawling fervor of Coryell's rock instincts comes through on Chick Corea's "Entardecendo en Sausadade," his guitar liberally spiced with distortion and wah wah. Here, from the 1971 album Larry Coryell at the Village Gate, his apparent affinity for Hendrix runs deep. It's a fiery, dense, and hypnotic guitar trio setting, alongside bassist Mervin Bronson and drummer Harry Wilkinson, in which feedback and licks adopted directly from the Hendrix vocabulary combine with more sophisticated jazz-inflected ideas that, on some level, suggest a direction that the ever-exploratory Hendrix—who died a year earlier--might have taken had he not passed on prematurely.
From the 1972 album Offering, Coryell's "Scotland Part I" traffics freely in the fusion vein of a repetitive unison line—Hindustani-like in feeling--interspersed with improv flurries, this time between Coryell and soprano saxophonist Steve Marcus.
Things Hendrixian—the squealing bent notes, the extensions on a sharp nine chord, the recurring bluesy riff echoing the Band of Gypsies era--re-emerge on "Jam with Albert," a guitar workout over bassist Albert Stinson's stewing ostinato. Elemental riffs mix in with headier stuff, the fast, tumbling cascades of chromatic lines and hints of harmonic deviation from the rock norm.
Planet End, from 1975, signified the twilight of Coryell's Vanguard years, and, although it's a collection of outtakes taken from the first half of the '70s, a furious, mercurial period for Coryell, it features some treasures rescued from the vaults. "Rocks," a creative fireball written by Randy Brecker barrels forward with an infectious intensity driven by Mouzon's fill-happy groove. A fast, craggy, yet tasteful melody--with fusion written all over it—interlaces with an antic rhythmic line stated on Mandel's Fender Rhodes. Coryell solos with characteristic loose abandon. "Planet End," the tune, such as it is, is a jam outing which again finds Coryell swapping spiky licks with his fellow fusion pioneer McLaughlin.
It comes as no surprise when he ends a skittering solo on Mike Mandel's "Rasputin," a sweet-spirited energy blast of a track from , with a quote from the anthemic melody of Hendrix' "Third Stone from the Sun." In this context, it sounds like an easy dip into his musical memory, a logical nod to one of the principle entities in his pantheon of heroes, in the company of Stravinsky, Django Reinhardt, McLaughlin and countless others who made Coryell was he was and continues to strive to be. In Coryell's music, you can hear the striving for something else, something new, which accounts for a good part of his restless intelligence and his roguish charm.
--Josef Woodard, contributor to Los Angeles Times, Jazz Times, Jazziz, Down Beat, and other publications, and winner of an ASCAP Deems Taylor award.