josef woodard/liner notes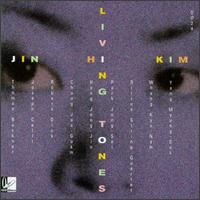 liner notes for Jin Hi Kim, Living Tones (O.O. Discs), 1995
by Josef Woodard
For better and worse, the spirit of convergence is upon us. Cultural currents cross with intentions--good or otherwise. Ideologies meld. Corporate consolidation wields its saber. In this will-to-merge are embedded both a restlessness verging on avarice and the purest sort of idealism. The operative paradigm? Better living through synthesis.
With Jin Hi Kim's Living Tones, we have a convergence of a different stripe, one in which seemingly disparate sources converge in a surprisingly (or perhaps not) seamless way. It is a convergence in which the venerability of centuries-old Korean tradition and the embracing attitude of Western experimentalists join forces in a place of graceful coexistence. Kim's music--by nature plainly "bi-cultural," as she describes it--addresses the proverbial east-meets-west aesthetic with an uncommon freshness of purpose.
East doesn't so much meet west, on some ineffably neutral, respectful turf, as the parties mutually explore a non-aligned other dimension, primarily Korean, but extending definitively outward. At times, the realm worked by these musicians on these four compositions is as simple, and as profound, as a single tone or interval, with swelling, mutating overtones real time.
The effect of hearing this organic process is its own reward--a unique tracery of deep musical instincts, flung across cultues and mindsets. It was another thing witnessing these meetings in their concert incarnation, as happened with two performances in the spring of 1995, at Los Angeles County Museum of Art, and then at Merkin Hall in New York City. Ceremonial regalia and traditional Korean costumes, as well as the exotic design and usage of the Korean instruments themselves complete the presentation with a formal visual element. Yet the lack of a visual component hardly diminishes the experience of Living Tones, a cross-cultural project that is fundamentally all about what happens between and beneath the notes.
As an unusually open-minded proponent of improvisatory practices over the past decade, Kim, has, herself been instrumental in bringing to new music and improvisational situations the cultural patina of her Korean roots. Born in 1957, Kim
bucked expectation early by settling on the komungo as her chosen instrument, while most girls took up the brighter, more popular zither, the kayugum. The komungo is a zither of six silk strings and sixteen frets dating in origin to the 4th century, making it Korea's earliest known instrument. Pentatonic by nature, with its innate harmonic limitations, the komungo remains a fairly esoteric indigenous instrument in Korea, most often used for purposes of meditation by male Confucian scholars.
Emboldened by an inner enthusiasm, Kim plumbed the historical roots of her instrument and culture, while keeping an open ear to the contemporary, international scene. Kim earned a degree in Korean traditional music at Seoul National University before following her spirit and coming to the US, earning an MFA in electronic music/composition at Mills College in the Bay Area in 1985. From that point on, it wasn't long before word, and sound, of her deft trans-cultural fluency spread.
Mixing conventional and unorthodox techniques on the komungo, Kim has managed to strike a balance between stateliness and the clean slate mindframe of spontaneous flexibility. These dualistic qualities--ancient and of-the-moment--have marked her notable collaborations within the realm of improvisation, with the likes of Derek Bailey, Bill Frisell, Oliver Lake, Elliott Sharp, Eugene Chadbourne, as well as working with the aptly-named quartet No World Improvisations, which emphasize inclusiveness of ethnic influence, towards an end of blurring global delineations.
To that end, Kim has also conscientiously pursued working with musicians from various ethnic perspectives, traversing the globe as an emissary for musical universality. "Serious" musical imprimaturs also mark Kim's resume, with commissions from such august bodies as Meet the Composer/Reader's Digest Commissioning Program and the National Endowment for the Arts. Her investigative spirit has also led Kim towards non-acoustic realms, working with an electric komungo, designed with luthier Danny Ferrington, and an electric version of the Korean percussion instrument, the changgo, as well as creating various computer music works.
But unplugged is the byword on this occasion. With Living Tones, Kim makes manifest the foundation of her approach over the last 15 years, however divergently her path has led her. "Living Tones," sigumse, is an essentially Korean concept of music in which the precise timbral persona of each tone generated is treated with an abiding respect. The manner of musical functioning and modes of musical behavior--the very notion of a note's worth--becomes a vital subtext of this project. Living Tones has, as its philosophical mandate, a reverence for the "life" of a tone, the color and nuance granted each articulation--vibrato, glissando, dynamic shadings, can take on a dramatic weight. Or tones can assume the contemplative condition of music that proceeds with a slow, savoring, bone-deep momentum.
This way of being, alone, steers Kim's music away from the mainstream of Western musical thought, so often fueled by a thirst for sensationalist phenomena and romanticized cliches. Notes--tones--to traditionally western-inclined ears, are merely signposts along the route to a sense of destination, the destination being a neatly-resolved statement. What we find in Living Tones, on the other hand, is a music of patient procedures and textural wonder. Connections and transitions, the stuff in the collective and microtonal cracks, amount to the stuff of epiphanies.
In order to fulfill the inherent challenge of Kim's project, a highly empathetic performance environment had to be orchestrated, in which the Korean musicians, perhaps not normally accustomed to east-west confabs, would find a degree of interactive sensitivity. The participants gathered here--the Sirius String Quartet, flutists Robert Dick, baritone Thomas Buckner, and double reedist Joseph Celli--are uniquely suited to the bi-cultural task. All have been involved in the evolving world of new music for many years, and all but the Sirius have recorded for the O.O. Discs label. Celli, the founder of the O.O. Discs label, has devoted himself to the study of Korean music in recent years, pursuing his interest in the double reed instrument known as the piri--the focal point of Kim's piece, Piri Quartet.
Opening the album is its most cannily "lyrical" work, the icily beautiful Nong Rock (1992), originally commissioned by the Lincoln Center for the Kronos Quartet, and played here by the Sirius String Quartet, alongside Kim's protagonistic komungo. The title tells much: where Nong refers to the sculpting of tones, Rock suggests the ecstatic outcome of said tones. Between the ostensibly definitive western organism of the string quartet and the clearly non-western "twang" of the komungo, an enigmatic force enters into Kim's composition.
There are crisply defined yet lustrous freeze-frame moments in sound, chords that shiver and throb with non-western approaches to vibrato, with a strikingly scratchy bowing attack and swooping note arrivals. Time stands still, it seems, as the quartet lingers on clouds of tone, tethered to pleasingly cool pentatonic schemes. Underscoring it all are Kim's wood-toned, percussive interjections that fall diagonally across the "beat."
For the remainder of the album, Kim's role is limited to that of composer/enlightened situationist, responsible for bringing these musicians together, drawing an arc between Seoul and New York. Exploring possibilities of interchange is her agenda.
Tchong, a sonic frieze of searing timbres, plays upon the agreeable cultural and sonic distance separating two radically different flutists. Hong Jong-Jin, a respected master in his homeland, performs on the daegum, a transverse bamboo flute, the tone of which is enhanced by the natural distortions of rice paper membranes placed over the finger holes to give off an entrancing, buzzing tone, the timbre described by the Korean word that is the work's title. From the western quadrant in this musical conversation comes Robert Dick, whose incisive flute work provides more centered timbres in contrast to the daegum's varying waves of sound.
Thomas Buckner, who commissioned Kim's work Yoeum and sings in its western role, has long been a pillar of the new music scene, working with Robert Ashley and many others, and heard in an improvisational setting on the Act of Finding album on O.O. Discs. As with the other pieces on Living Tones, Yoeum, a term which refers to the extension of pronunciations, investigates its textures on a minute, microscopic level. In this case, where the well-known kagok singer Whang Kyu Nam presents interpretations of court lyric songs in dialogue with Buckner's e.e. cummings text, the investigation takes the form of elaborations and improvisations on given syllables and vowels. With a striking sense of empathy, despite--or partly because of--their cultural differences, the vocalists share Kim's sense of space and declamation well.
Piri Quartet contains, in its title, a hint of the philosophical stance central to Kim's culture-bridging sensibility. Here, she brings together three masterful exponents of the 1,500 years old Korean oboe called the piri, Korean oboe--Chung Jae-Guk, Park Jong-Sol, and Yang Myong-Sok--and Celli performing on the oboe and English horn, the western double reed cousins of the piri. Celli's refined yet limber use of extended techniques on these instruments produces a variety of multiphonic "distortions" which bring them closer, in character, to the resonant range of filtrations produced by the Korean musicians.
Kim was inspired to write the work after observing Celli's studies with the celebrated piri virtuoso Guk, designated as Korean National Living Treasure No. 46. Throughout the composition, which proceeds with a thoughtful slowness but is never in wont of bracing tensions, paradigms of tonality and texture are pushed and altered. Within the work's series of aural sunbursts--like contoured wind pockets--there is something akin to the deliberated, time-altering gestures in Morton Feldman's music, as well as elements of Korean court music.
With the elegant bi-cultural setpiece that is Piri Quartet, Kim reaches an logical apotheosis in her "Living Tones" concept. The musicians here, from vastly different cutural perspectives, share in an experience, enmeshed for the moment by proximity of instrumentation and the template of Kim's writing.
To view Living Tones in some noble and fashionable capacity as a multi-cultural, Asian-American accord, though, is to short-sell its deeper implications. As both performer and composer, Kim's musical work, thus far, has embodied a self-fulfilling, self-defining objective, placing the natural integration of her influences in a foremost position. But Kim is also intent on digging into the subcultural dimension of sonic phenomena, irrespective of cultural bias. The pieces making up Living Tones amount to a poetic essay, a progress report on the life force the artist is impelled to probe.