josef woodard/liner notes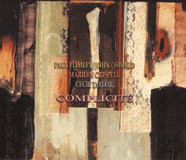 Liner notes for Complicite, Paul Plimley/John Oswald/Marilyn Crispell/Cecil Taylor (Victo)
Of Trees, Limbs and Springs
Traditionally, the annual vernal banquet of left-of-center impulses that is FIMAV (Festival International de Musique Actuelle de Victoriaville) closes on a celebratory note, perhaps with a blast of rhythmic energy or bracing clamor–like the 1999 festival's confab of Thurston Moore, Lee Ranaldo and Christian Mcarclay. It was no different in the late spring of 2000 in Victoriaville, and yet also quite different, in that the celebratory aspect was of a more introspective sort.
Three pianists—Cecil Taylor, Marilyn Crispell and Paul Plimley--and an alto saxist—John Oswald--gathered to play, in a triple-header that meandered blissfully and chaotically, and showed us a vision of measured abandon. Freedom rang out, amidst floating bits of structure and melody, and it also stretched out over three hours (which seemed like less, a sign that music is working, and time is being artfully subverted). And it's a very good thing, indeed, that it is now captured for posterity on a recording. The occasion turned out, through serendipitous circumstances, to be festive, and also historic.
At the epicenter of this marathon of post-free piano was, of course, Taylor, the ferocious sage. When it appeared that Taylor might not be able to make it to the Taylor-Crispell double-bill, hasty 11th-hour arrangements were made to include a pair of Canada's finest improvisers, Plimley and Oswald. As it happened, they were in town, just down from nearby Quebec City, as listeners on a pilgrimage. Taylor did, in fact, show up onstage, and so did the Canadians, completing a beautiful circle of influence and cultural vocabulary-building.
Taylor is, without exaggeration, the formidable trunk from which the others on the bill, and many other improvisation-fueled musicians, have sprouted, limb-like. At a time when true cultural heroism is in short supply, Cecil Taylor suits the hero mantle, and in his own private way. It has little to do with the external aspects of his notoriety, with his long-standing legacy as free jazz Godfather, his MacArthur Genius Grant, or the inverse dignity conferred upon him in 2001, having been dissed in Ken Burns' woefully reactionary, inappropriately-named documentary, "JAZZ."
The excitement of seeing and hearing—experiencing--Taylor is the real-time sensation itself, more so than with most musicians, even those working in the improv realm. From the first staccato urgings and cubist phrases, through its rugged landscape of sentiment-thrashing brushstrokes in sound, the hour-long "Victoriaville Suite 2000" is a fine example of what happens when Taylor is on, and onto something. Deep into the set, he bounded from the piano on a muse-inspired mission and began one of his implosive poetic recitations. An irrational verbal interlude, it was the most natural thing in the world… Cecil's world.
Taylor carries with him the weight of historical importance, having virtually forced a juncture in jazz evolution. But, at the same time, he is like an ageless sprite who, when walking out onstage, or wandering around it in mid-set, has a certain ethereal élan. For an encore, he launched into another micro-adventure, softer yet still furtive. He indulges no tidy, conventional sense of closure. Bang. End of suite. A brute mid-point punctuation mark in an ongoing crusade.
Crispell's set was something else, again: stylistically, hers was the broadest of the three on the bill, as if to make an ecumenical point about the compatibility of scored and un-scored musical materials. Hers was a set laced through with patches of lyricism amidst her own, plainly Taylor-inspired, abstract pianism, in the fragmented suite she calls "Triplos." She interwove pieces from the pens of others, including Mitchell Weiss' poignant balladic theme, "Paris," Anders Jormin's obsessive folk-like tune, "Not," and Annette Peacock's coolly evocative "Gesture Without Plot." Peacock's very title could be read as a modus operandi for Crispell, who is engaging in musical explorations in which traditional ideas about musical narrative are less important than the gestural and visceral qualities of her playing.
The opening set by Plimley and Oswald, the evening's enlightened rogues and sanctioned stowaways, ended up providing a critical third aspect to the musical triangle here. A kind of over-arching symmetry imparts balance on their 41-minute set, opening with Oswald's fervent combustion of saxophonic colors (not riffs) on the solo piece, "Won." He made dynamic crouching motions on the delicate duo, "Toon" and then fanned out into the more extroverted "Free." Plimley has said that his sense of free playing contains more linearity that Taylor's, more horizontality to Taylor's verticality. That much is clear on the piano solo "Foremost," which opens with a dance of hands, right in accordance and also in friction with the left. Rhythm urges from below, and Plimley nearly slipped into the temptation of a grooving swagger, but steered clear and then headed out into a wondrous void.
Complicite was surely in this house, this evening. Obviously, an intensely personal expression is involved in the work of solo improvisers on this high of an order. Yet there is also a negation of the usual musical hierarchies, which makes this music so brimming with a kind of idealism, unveiled in very real time. What happened in Victoriaville that night, in a temporarily re-functioned hockey rink, was some kind of magic.
--Josef Woodard, April, 2001