josef woodard/liner notes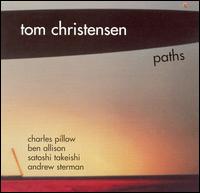 Liner Notes for Tom Christensen, Paths
Secret Life, Artful Portals
by Josef Woodard
Tom Christensen's latest project, rich in allusion, alternately spacious and energetic in presentation, is a fine example of the quietly brilliant secret life of jazz. Whatever data spills out in public via the usual sources, through the selective filter of radio and media, often the artistic deposits that matter most are off to the side or beneath the surface.
Case in point: Paths, an aptly-named series of explorations, in and around the traditions and subcurrents of jazz as the music has come to be known--not as a fixed system but an open portal. Clear and diverse pathways to jazz history are entrenched here, but so are references to world music traditions and chamber music sensibilities, and attitudes organically descendent from the "outside" world.
As on his 2000 debut, Gualala, Christensen's latest recording stretches out, with care. As before, he is joined by reedist collaborator Charles Pillow in a highly intuitive session sans chordal instrument, but hardly a harmonically limited context because of that fact. Instead, voicings and interlacing parts of the wind players on the date—also including Andrew Sterman making cameos on bass flute and bass clarinet--create a sonic environment at once free-spirited and considered. Air and texture play an important role in the painterly quality of this music: percussionist Satoshi Takeishi is sensitive throughout, on assorted battery, and bassist Ben Allison handles the task of flexing and coloring a piano-less, non-traditional rhythm section beautifully.
Elements of Christensen's background thread through the album. Born in Northern Californian town of Gualala, by Napa, Christensen's studies took him through Eastman School of Music, mentorship and inspiration from another open-minded saxophonist, Dave Liebman, and real life, real time studies in New York. There, Christensen found himself playing with the likes of Maria Schneider's hot 'n' cerebral big band, with Joe Lovano, circa his Celebrating Sinatra project, with Don Sebesky, Toshiko Akiyoshi, and others.
Needless to say, despite his large ensemble resume, Christensen's own group and discography so far has been about the art of making a lot of music in a compact unit. Paths opens with an Ornette-ish (and by extension, a '70s Jarrett-esque) brand of heady joy, as the tune "Just to Play" springs outward with its bright, cascading melody and fervent tenor solo. A more reflective temperament takes over on "Dude," enhanced by Christensen's use of the mellow-toned English Horn, Pillow's alto flute and Sterman's bass. English Horn appears again, as bearer of stately melancholy, on "Nostalgia."
To pleasantly complicate--and inter-stitch—things, there are three heated improvisational pieces tucked into the folds of the sequence, each taking off from the title of a poem by insightful gadfly Richard Brautigan, the inimitable late Northern Californian poet-novelist. Moods change accordingly, from the boisterous 28-second snort of "Negative Clank," and the pensive "Propelled by Portals" and the mumbling/swinging "Critical Can Opener." These are palate-cleansing, or palate-scrubbing, miniatures, spontaneously combusted.
In other jazz-related news, Christensen does nod in the direction of blues forms, albeit expectedly unconventional. "Footnote" is a bit of light-handed playfulness, which settles into what is roughly a blues chord progression, keyed upward in range with the use of Christensen on soprano sax and Pillow on sopranino. "Iquique," named after a town in Chile, finds the horn players manning tenors, wandering over a lovely tune and loose minor blues form in 6/8.
When Christensen does depart from original material, on the Miles Davis (and/or Bill Evans?) tune "Nardis," the familiar vehicle is exotically reshaped, its melody played with an almost Morroccan impetuousness that yields to a restless intense exchange. We get the polar opposite impression from a languidly swinging take on Harry Warren's "You're My Everything," its lack of chordal structures refreshingly dealt with.
Strangely logical emotional math is behind "Longing Hoping Longing," a fittingly named piece brimming with desire nearly fulfilled, which touches on the album's general spirit, at once investigative and declarative. The album closes on a peaceful sigh of a piece, "Sam was Born," and on a personal note of full circle. The Sam in question is Christensen's infant nephew, the child of brother Steve. The sweet tune itself is played on a wooden flute, fashioned from bamboo from the yard of his childhood home in Napa.
Paths is a moving progress report of a jazz artist with a vision that doesn't necessarily have to do with this year's models. Inner models seem to be the main reference points.
--Josef Woodard, journalist, contributor to Down Beat, Jazz Times and other publications.