josef woodard/liner notes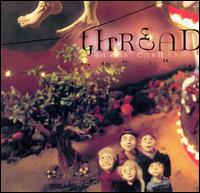 Liner notes for James Carney CD, Thread (Jacaranda)
Eloquent, Radical Weavings
by Josef Woodard
In any art form, the all-important spirit of yearning is a subtle and hard-to-define thing, yet it is also critical to the determination of what separates art from craft and inspiration from business-as-usual. It emerges, in its own special, disarming way, on the first several measures of James Carney's ear- and mind-opening new album, and continues to the end. There are plenty of tender, introspective moments on the disc, but what frames Thread's song set is a cerebral and spunky ditty called "Grassy Shoal Hoedown," presented first as a brief prelude to open the album, and in broader version as the penultimate track.
Concurrent threads of exploratory zeal and sheer tangly pleasure arise out of Carney's lines, which allude alternately to the 16th note parade of Appalachian music and the tonally-stretched language of progressive post-jazz thinking. The attitude continues throughout an album which swerves, easily and without forcing, between introspection and abandon, between saucy grooves and improvisatory free zones, with references to Hindustani music and New Orleans along the way. Through it all, we sense a yearning for understanding rather than a declaration of having unraveled the great mysteries of existence.
Welcome to a new, inviting corner of the jazz cosmos. No smug recitation of conventional musical wisdoms here, just an exploratory voice that manages to be both assertive in its statements and questioning in nature. That comes as good news at a time when jazz doesn't quite know what to do with itself, caught suddenly between highly public forces of conservatism and the music's inherent hunger for adventure and forward motion. And, at the risk of massaging stereotypes, it's not an attitude one often hears from a musician hailing from Los Angeles.
Then again, Carney handily defies the usual m.o. of a jazz musician on various levels, partly because of a diverse background and a seemingly innate curiosity. Born in 1963 in Syracuse, NY, Carney started out his musical life as a tuba prodigy, getting grounded exposure to classical repertoire. He switched to piano in his teens, and expanded his musical consciousness into the areas of pop jazz and rock, touring with numerous acts and playing in NYC. His westward migration was part of a serious move, coming out to study jazz at Cal Arts with the likes of James Newton and Charlie Haden. Upon graduating in 1990, it was time to begin his lab experiments, forging a singular path where none had precisely gone before. Fast forward to 1999, when Carney's tune "Swamp Rookie" became the vehicle earned him the coveted Thelonious Monk International Jazz Composers Award.
Delving into areas of ensemble color and dialoguing were central to the plan of Carney's well-received first two releases on the Jacaranda label, Fables from the Aqueduct (1994) and Offset Rhapsody (1997), on which horns played a role. On Thread, however, Carney's particular brand of pianism comes to the fore, as he brings new focused intention and adventure to the piano trio format. He's in good company, to be sure, with bassists Dan Lutz and Todd Sickafoose holding down a flexible bottom, and special spotlight allotted to drummer Dan Morris, who brandishes a diverse approach, veering away from the standard drum kit into hand drumming and other percussive detours from the norm. For his part, Carney confounds any pat description, playing with a keen awareness of touch and also a restless quality, jumping in range and idiom as the muse dictates.
This is not to say that Carney relies on muscle over musicality. Balladic playing is a critical part of Thread: it hardly follows structural or stylistic traditions here, but the essence of jazz thinking is intact. Gentle ideas are ever lurking behind Carney's feistier instincts, as heard when "La Guerra Nueva" follows the opening song's rowdy braininess with a soft lyrical introduction. In the spacious, freely improvised "In the Years Since," a tender melody opens up like a landscape painting leaning jealousy towards abstraction. "Pearblossom Heights" is all about ethereal poise and an almost weightless sense of structure.
Fast, light-handed trio blowing on the improvisational piece "Politicking" lends the title a new meaning, something about the furtive chattering factor of politics. Some trace elements of Appalachian music, mixed in with a harmonic language more common to European jazz, appear in the aptly-named "Weird Vernacular." Vernacular is always subject to change for Carney, even within a given composition or situation. "Louisiana Raga," for instance, cleverly plays off its match-up of Crescent City groove and Northern Indian linear elements, but the end result is a coherent musical statement rather than a cross-cultural paste-up.
Gospel music and jazz sophistication inform "Broken Spirit," closing the album like an ambivalent, bittersweet denouement. Carney opens with a long solo statement, with Lutz stating the melody, arco, while Morris moves from delicate cymbal tickling to fiery kit work as the heat is increased. By the final resolving chords, the spirit seems broken and mended, by turns.
Thread succeeds by the grace of its tensions, both in its musical specifics and its larger implications. The album signifies that Carney is, by now, a mature musician, who still understands that the notion of seriousness and matters of genre are wide open to redefinition. Taking that idea one step further, this music suggests that the process of redefinition is central to the being of what jazz is.
--Josef Woodard, contributor to the Los Angeles Times, Down Beat, and other publications.