josef woodard/liner notes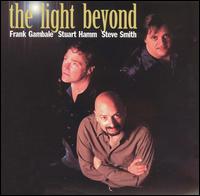 GHS2 liner notes
The Light Beyond
By Josef Woodard
Reports of fusion's death have been greatly exaggerated. The cultural phenomenon, by which jazz and rock made a potent alliance during the '70s, generally slipped out of the public ear and major label consciousness, as jazz as a whole retreated into a more historicist, unplugged attitude. But out of corporate sight only out of corporate mind, and musicians have been courting the fusion muse on indie labels and just beneath the surface of mainstream jazz marketing ever since its heyday.
In a sense, fusion has gone underground, but the path continues. Witness this recording, a fortuitous meeting of three players with no trepidation about mixing up jazz sophistication, rock-ish pyrotechnics, metric and harmonic experimentation, high-octane blowing and, not lastly, an abiding musicality. In this trio, the parts inform and interact with the whole.
To Joe Public, Steve Smith is known as the drummer for arena rock outfit Journey, but his life in jazz is what counts, artistically. With his band Vital Information, Smith has explored assorted sub-idioms within the fusion arena. Stu Hamm has become a bassist-of-choice in many post-fusion situations, often where the rock elements is punched up in the mix, as heard with Joe Satriani and Steve Vai. Frank Gambale's blend of fretboard fireworks and an emotive palette has graced Chick Corea's Electrik Band and his own multiple projects.
Apart, each player has solidified his place in the pantheon of instrumentalists on the latter-day fusion scene. Together, they generate a special kind of energy and sensitivity. Some particular empathetic bond was apparent from the evidence on their debut as a trio, on the 1998 Tone Center album Show Me What You Can Do. Before then, the players had played with each other in different encounters, but the idea here—one of a few "power trio" dates organized by Smith for Tone Center--was to celebrate the artistic possibilities of the plugged-in trio format. The Gambale-Hamm-Smith sessions were especially juicy, and the first album met with positive reaction on the audience back end.
"That seemed like a great idea," Smith said of the first meeting. "Both of these records came about in a similar way, in that we would go in the studio and set aside nine to ten days to write and record--a tune a day. The first time around, it felt to me like there was a bit less writing and more jamming. On this one, the writing seemed to come to the forefront more. The tunes are stronger. One of the reasons is that we didn't write all of the tunes in the studio, the way we did on the first record."
If there were more preconceived pieces thrown into the machinery this time out, a premium was still placed on the importance of improvising and tailoring. "The tunes that are written offer a loose framework, but then we arrange it and claim it to be our own, and also leave a lot of space for improvising, for everyone. There are a lot of drum and bass solos, and a lot of guitar solos."
The trio went into Neverland Studio in Marin, in Northern California, for a stretch of days in February, 2000, and came away with another step up in the evolution of the group. On many levels, the secret is in the mix, of players' input into the interactive blend, of varied material, and even levels of restraint. Therein lies the underlying code of good music-making: knowing when to wait, when to wail. They know.
Does history repeat or reinvigorate itself, or both? Thinking of reference points, one could refer back to Tony Williams' '70s work around the time of the album Believe It. "That's a good reference point," Smith comments, "although this music is pretty unique. I don't know exactly why, other than the combination of players and the material itself. It's modern, yet you can hear that its inspiration dates back to the '70s fusion experience. But the writing still sounds current and modern, as far as I'm concerned. It has a unique feeling to it.
"There's a lot of melody involved in most of the tunes, and the melodies are not that obscure, or totally jazz fusion melodies. For the most part, the material is fairly melodic, but without being sappy. It's somehow a fine line that really works, through strong melodies and rhythmic foundation."
Fans of fusion's promise won't be left wanting, from the 5/4 contours and measured ferocity of "Katahdin" (named after the largest mountain in Maine) to Gambale's uncorked "Yang--" replete with spidery bass lines, intricate rhythmic plotting and solos with few holds barred. Echoes of Return to Forever's elaborate designs and mix of gnarly guitar and thump 'n' slappy bass are plan to hear on the tune—nay, the mini-suite--"The Throne of Savitar." Gambale originally brought the basis of the song to the group. "The idea we talked about," Smith remembers, "writing something like the old Return to Forever days. Obviously, Frank had a lot of experience playing Chick's music, so he was remembering how Chick put some of his tunes together, and used that for inspiration."
Metric complexity rears its head, but in a happy, organic way, on "Lumpy's Lament," a real "group write" which developed out of an odd time groove that Smith brought to the table. The title comes courtesy of engineer Robert M. Biles. "It's pretty trippy, and our engineer said 'man, that tune is lumpy.' That's how we came up with the title. He couldn't figure out what the hell was going on as he was listening to it. He just said it sounded 'lumpy as hell.'" Smith laughs.
On a softer front, the "Yin" to Gambale's "Yang" is a cool, percolating moodpiece, featuring a supple bass solo from Hamm, and an effectively muted drum approach from Smith. Hamm wrote the ballad "First Look," inspired by his first glance at his baby daughter: a hint of the melody played with bass chords yields to a propulsive 16th-note bass pattern and a yearning-yet-fiery workout.
In the course of conceiving the record, it was decided that each player would create a solo track, and each of these turns out to be a sensitive personal statement rather than an excuse to flail. Hamm was the first to record his solo piece, "Nostalgia," a bittersweet etude, full of the chordal grace (and hand-boggling technique) that Hamm is known for. Smith recalls that "we turned on the tape and Stu just played one take. We said `wow, that's beautiful. Don't touch it.' Then he tried about four more takes and we said `yeah, see?'"
Smith's own solo piece, called "Dun Dun" after the African talking drum, neatly divides its emphases between improvisation and a clear, melodic form. He drew inspiration, he said, from such masters of the form as Max Roach, whose solo pieces Smith has studied and performed. "Dun Dun" came from "the tradition of solos that are structured, in a way, like an actual piece of music and not just a free form drum solo—it's coming out of that tradition that I was thinking of when I put that piece together. It needed to have some kind of shape and thematic material, and stand alone as a piece of music."
Gambale, though heard coaxing degrees of fire on electric guitar throughout the record, waxes reflective on acoustic guitar for his solo piece, "Isle of Few," unveiling a fragile chord progression with hints of ECM-ish introspection. That track segues, handily, into the closer, Hamm's evocative "Fugitive Aspirations."
Trivia note: the odd, ghostly sound you hear on the outro is a snippet of Hamm's original demo. Smith remembers, "it was like this little new age piece. He played it for us and we were on the floor. It was just so funny to us. It sounded like some Windham Hill record. So we said 'we've got to put the demo on the record somehow.'" But Windham Hill turned towards ECM as the trio "claimed the song" as their own. Smith's light, rapid cymbal work was inspired by ECM work of Jon Christensen and Jack DeJohnette, and Gambale's creamy, ethereal, if distorted, sonorities recall Terje Rypdal and, by natural extension, Hendrix.
Like the rest of the album's matrix of influences and ideas, it's all valid. It's all part of the elasticity of references among musicians conversant with jazz, rock, and other stylistic imponderables. Fusion, by whatever name, lives.
--Josef Woodard, contributor to Jazz Times, Jazziz, Down Beat, Entertainment Weekly, the Los Angeles Times, and other publications. He won an ASCAP Deems Taylor Award in 1998.